Private underground facilities, also called customer-owned facilities, may be found anywhere, including your excavation site. Operators of lines buried in the public right-of-way must register with Montana 811 (MT 811), so these lines will be marked as the result of a locate request. Privately-owned facilities, like utility lines that serve heaters for hot tubs, gas barbecues, electric security lighting, invisible dog fences, farm taps, buried sprinklers systems, and many others, are not marked when locators respond to your MT 811 request, since they are the owner's responsibility. Let's take a look at some common types of private underground facilities.
Energy-related private facilities include: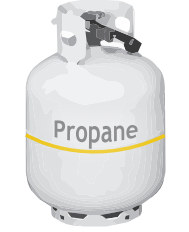 1.Propane is a fuel source used to heat residential buildings, swimming pools, grills, fireplaces, and appliances, among others. In agricultural settings, it can be a fuel source for buildings, corn dryers, and other equipment.
2. Natural Gas can fuel grills, pool heaters, yard lights, or heaters in outbuildings like sheds, garages, and barns. Natural gas may travel through a "master meter" to a residential building. As a general rule, natural gas facility operators will mark underground gas lines only from the main to the meter, making the lines on the "other side" of the meter a private facility.
3. Electricity can also be supplied to a "master meter" to power multi-resident properties, such as trailer parks, town homes, or apartment complexes. These lines may connect outbuildings like garages, sheds, and barns to a source of power. Remember that the electric operators usually only mark the power lines up to the meter.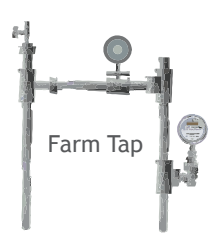 4. Farm Taps are private natural gas lines. All the equipment from the outlet of the meter (usually, but not always, located near the pipeline) to the house, corn dryer, milk house, or barn belongs to the landowner and will not be located. Farm taps support many farms, and as farms have expanded, adding more houses and buildings to the original farmstead, private lines attached to a single tap have increased in number.
Some other types of private facility lines are underground sprinkler systems, data communications cables, fiber optic lines, septic systems, and waste collection lines, among others. In agricultural settings, drain tile and irrigation lines are often buried.
If you are installing private facilities, consider doing the following:
Prepare maps of any new facilities.
Bury tracer wire with the new facilities.
Use above ground markers or signs to indicate the buried facilities.
If you are a land-owner or a professional excavator digging on private property, there is a good chance that there are private facilities in your work area. Protect yourself by investing the time necessary to determine if there are private utility lines buried in your area of excavation. Look for above-ground warning signs such as a "master meter" or "farm tap" and any former colored marks or flags and contact whomever installed the lines to determine if any current records or maps exist of the area. Remember that a good excavator is also a mindful detective and investigator!
*You or the owner of the property may have to contact a private locator to get these lines marked. Click here for a list of private Montana locators.