2020 One-Call Excavator Training
Fun, interactive, and interesting training for professional excavators, contractors, and member utilities regarding the One-Call / Call Before You Dig system, safe excavation and understanding your rights and responsibilities under the Montana One Call Law. Studies of previous excavation accidents and how they may have been prevented.
Bring your questions & comments.
Excavator Training: (Meal Included)
Dept of Labor and Industry – Underground Facilities Protection Program (DLI-UFPP) Statistics.
Incident Report UFPAC Reviews
Ticket Submission Requirements
Safe Excavation Practices
Case Studies
Locate Marks – Documenting and Maintaining.
Best practices for documenting and maintaining locate and white-lining marks.
Taking good pictures prior to and during excavation to improve your damage documentation
Morning Meetings Schedule:
8:00 am – Excavator Training
9:30 am – Locate Marks Documenting
Evening Meetings Schedule:
6:00 pm – Excavator Training
8:00 pm – Locate Marks Documenting
2020 Excavator Training Flyer (PDF)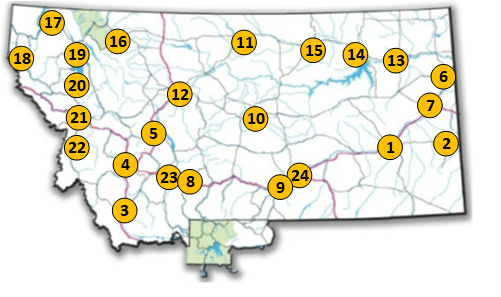 1 – Miles City – Wednesday, January 22, 2020 – 8:00 AM – Town & Country Club
2 – Baker – Thursday, January 23, 2020 – 8:00 AM – Thee Garage
3 – Dillon – Tuesday, January 28, 2020 – 6:00 PM – Search and Rescue Bldg
4 – Butte – Wednesday, January 29, 2020 – 6:00 PM – Clarion Inn Copper King
5 – Helena – Thursday, January 30, 2020 – 6:00 PM – Radisson Colonial Inn
6 – Sidney – Tuesday, February 4, 2020 – 8:00 AM – Sidney Country Club
7 – Glendive – Wednesday, February 5, 2020 – 8:00 AM – Moose Lodge
8 – Bozeman – Tuesday, February 11, 2020 – 6:00 PM – Best Western Gran Tree
9 – Billings 1 – Thursday, February 13, 2020 – 6:00 PM – Billings Hotel and Convention Center
10 – Lewistown – Tuesday, February 18, 2020 – 8:00 AM – Yogo Inn
11 – Havre – Wednesday, February 19, 2020 – 8:00 AM – Best Western Plus Havre Inn & Suites
12 – Great Falls – Thursday, February 20, 2020 – 8:00 AM – Hilton Garden Inn
13 – Wolf Point – Tuesday, February 25, 2020 – 6:00 PM – Sherman Inn
14 – Glasgow – Wednesday, February 26, 2020 – 6:00 PM – Cottonwood Inn
15 – Malta – Thursday, February 27, 2020 – 6:00 PM – Great Northern Hotel
16 – Browning – Tuesday, March 3, 2020 – 6:00 PM – Glacier Peaks Hotel
17 – CANCELLED – Eureka – Wednesday, March 4, 2020 – 6:00 PM – Abayance Bay
18 – Libby – Thursday, March 5, 2020 – 6:00 PM – Venture Inn & Restaurant
19 – Kalispell – Monday, March 9, 2020 – 6:00 PM – Hilton Garden Inn
20 – Polson – Tuesday, March 10, 2020 – 8:00 AM – Red Lion Ridgewater
21 – Missoula – Wednesday, March 11, 2020 – 8:00 AM – Hilton Garden Inn
22 – Hamilton – Thursday, March 12, 2020 – 8:00 AM – Bitterroot River Inn
23 – Belgrade – Tuesday, March 17, 2020 – 8:00 AM – Holiday Inn Express / Just a Taste Catering
24 – Billings 2 – Wednesday, March 18, 2020 – 8:00 AM – Billings Hotel and Convention Center