Planning on starting a garden over Labor Day? Want to install an outdoor fire pit on Thanksgiving? Keep in mind that after filing a locate request with Montana 811 (MT811), you must wait two full business days, excluding weekends and holidays, before you begin digging. The day you call DOES NOT count towards the standard two-day notice. Plan ahead when digging over a holiday, since you will need to wait additional time for the underground utilities to get marked in your proposed digging area. When a holiday listed occurs on a Saturday, the preceding Friday is not considered a business day. When a holiday listed occurs on a Sunday, the following Monday is not considered a business day. See the graphic below for the list of holidays that MT811 observes.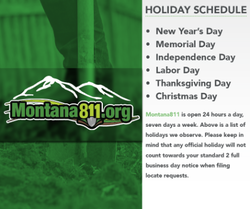 ​Labor Day will fall on a Monday, so if you call on the Friday prior to the holiday, the Friday, Saturday, Sunday, and Monday will not count towards the standard two full business day notice. Tuesday and Wednesday will be the actual waiting period for the locate request, so digging can commence on Thursday. If you plan to dig over this holiday, make sure to "tap, click, or call" at the very latest on the prior Wednesday, so that you can officially start digging on Saturday.
MT811 is open 24/7, 365 days a year, so they will take locate request tickets on holidays and weekends, but keep in mind that the day of the call will not count due to the holiday, so the next day will be considered as the day of the call. For example, if you decide to file a ticket on Labor Day that falls on a Monday, Tuesday will be registered as the first day, so it will not count. Wednesday and Thursday will count towards your waiting period, so the first day digging can begin is Friday. See below for a visual example of the waiting period timeline. Keep in mind that holidays will alter the waiting period as indicated in the examples above.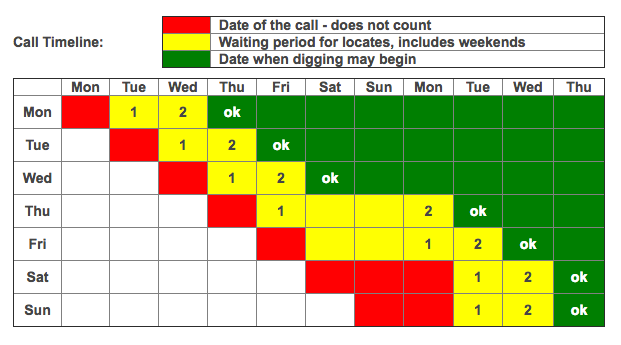 Remember to always check the status of the underground utility markings before beginning work to make sure that all affected utility companies have responded to the ticket. When you check the status of your ticket prior to digging, you will have the peace of mind knowing whether it is safe to break ground. Buried utilities are located everywhere and can be located near the surface. Don't take your chances by not checking the status of your ticket. It's easy! Look for your ticket by clicking the grey "Search and Status" button on the MT811 website home page here: http://www.montana811.org/
Prepare your plans to dig ahead of time to avoid any disruptions and additional waiting time. Stay safe and always "tap, click, or call" before all digging projects, large and small!